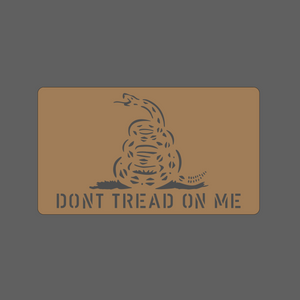 Don't Tread On Me. It's pretty simple. Use this stencil to add some freedom and patriotism to your ammo boxes, the toughbox in the back of your truck, your cooler, or anything else you want to paint! Some masking tape, a few sprays of your choice color paint and you're set. Custom sizes available.
SAO Premium Stencils are laser cut from heavy duty oil board,
and will last for numerous uses
.
Heavy gauge oil board
Laser cut
Leaves a ~2.8" x 4.6" design
MADE IN AMERICA